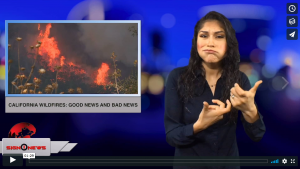 Sign1News delivers news for the deaf community powered by CNN in American Sign Language (ASL).
We have good news and bad news for the people devastated by the California wildfires.
The good news is firefighters are making progress in controlling the spread of the flames.
The Woolsey fire which scorched roughly 97,000 acres is nearly 100 percent contained.
Heavy rains over the next few days will help increase containment of other fires.
The bad news is those same rains will cause different problems for residents.
First, there are trees in the area that have been badly burned and unstable already.
If they become water soaked and heavier, there's a potential for them to start falling everywhere.
Also some areas could see 3 to 6 inches of rain over the next few days, which could trigger flash floods and mudslides and that will make the search for survivors and human remains much more challenging.
As of Tuesday night, at least 81 deaths were confirmed from the Camp fire, making it the deadliest fire in state history.