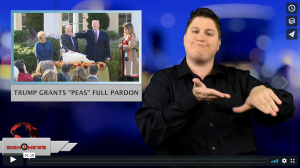 Sign1News delivers news for the deaf community powered by CNN in American Sign Language (ASL).
Transcript
Today President Trump observed the tradional White House turkey pardoning.
The president and the First Lady appeared in the Rose Garden for the pardoning ceremony.
The lucky bird this year was named "Peas," one half of the duo "Peas" and "Carrots."
Trump joked that Peas won the vote for the pardoning fair and square, but Carrots refused to accept the outcome and insisted on a recount.
That was a joke in reference to recount demands following close races in this month's midterm elections.
Jokes aside, both birds will live out their lives on a farm in Virginia instead of becoming centerpieces at a Thanksgiving day meal.