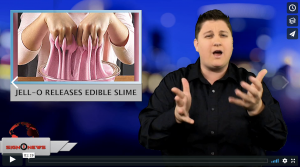 Sign1News delivers news for the deaf community powered by CNN in American Sign Language (ASL).
Transcript
Jell-O is launching a line of slime that you can safely eat and just in time for the holiday shopping season.
It capitalizes on the slime social media phenomenon with millions of Instagram posts and countless how-to videos on YouTube.
Jell-O's edible slime comes in strawberry flavored unicorn and lime flavored monster varieties.
It's being billed as the first edible slime produced by a major national brand.
It is the first product launched by the "Jell-O Play" line of edible toys.
Amazon is taking preorders now and it will be available in stores next month.
I want that Jell-O slime.
But when I went to Amazon's website, I couldn't find it.
It's possible it sold out quickly but I'll be trying again later.