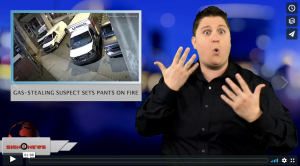 Sign1News delivers news for the deaf community powered by CNN in American Sign Language (ASL).
Transcript
Portland authorities say an attempt to steal gas ended with the suspect on fire.
Officials say someone tried to siphon gas from a parked U-Haul truck.
That's when things went wrong.
Something ignited the gasoline causing a fire.
And the next thing you know the suspect is seen fleeing with his pants on fire.
Firefighters responded to the scene and quickly put out the flames.
Authorities are now pouring over the footage and looking for clues on the suspect who they assume may be in need of medical attention.