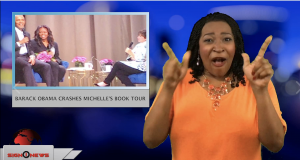 Sign1News delivers news for the deaf community powered by CNN in American Sign Language (ASL).
Transcript
Former President Barack Obama made a surprise appearance at Michelle Obama's book tour in Washington DC Saturday night.
He showed up with a bouquet of flowers during the promotional event for his wife's memoir "Becoming."
The crowd went wild!
He joked that his surprise appearance is just like when rapper Jay-Z makes a surprise appearance on stage during a Beyonce concert.
Mrs. Obama talked about their life post-White House and how they are taking a step back to reflect on what they accomplished.