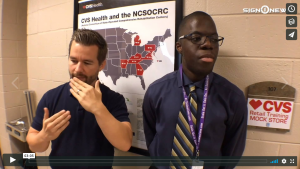 Sign1News delivers news for the deaf community powered by CNN in American Sign Language (ASL).
On Friday, officials with the Georgia Vocational Rehabilitation Agency invited Sign1News to a special grand opening.
CVS Health just opened a mock store at the agency's center in Warm Springs, Georgia.
There students spend eight weeks training in the store, ringing up merchandise, stocking shelves and role-playing as customer service representatives so that when they are done, they will be ready to work at any CVS in their hometown or with any company.
Sign1News multimedia journalist Martha Anger has the story.
The CVS retail training mock store is officially open at Georgia Vocational Rehabilitation Agency's Roosevelt Warm Springs campus.
The store is set up to look like a real CVS store and the students are taught everything they need to know so they are ready to work when they leave.
I learned how to use a cash register, organize and stock items, greet, offer and thank customers that came into the shop and I kept my calm and cool when there are rowdy customers.
The whole concept that CVS has as an organization is promoting diversity, independence and recognizing the important contribution that individuals with disabilities can make in the community.
It is very important to us because if they can prepare ahead of time. It really gives them a leg up on getting hired, whether at CVS or any other company.
Once they leave here, not only do they fill out the application but I send the applications to Mike. He's over CVS and what he does is send all the applications around to CVS stores in the student's hometown. So we hope they get an interview in their hometown from the application here.
The students leave the program with, not just work skills, but life skills, GVRA gets to celebrate breaking down more employment barriers and CVS gets to put one more heart on the map as it expands to more states.
At CVS we are really excited about this program. We have worked with the different rehabilitation centers across the United States and it's always exciting when we get to put that heart on to declare that this site is officially open so we can begin to help individuals on their path to a career.
At GVRA our clients have all kinds of disabilities. They may be deaf, blind, autism or in a wheelchair. But the most important thing is they have the fire in their belly for gainful employment and we're here to help them.