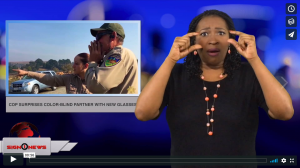 Sign1News delivers news for the deaf community powered by CNN in American Sign Language (ASL).
In California, Humboldt County Sheriff's deputy Jeff Dishmon has been colorblind his entire life.
But recently his partner of eight years, Deputy Samantha Freese, surprised him with a pair of EnChroma glasses, which help correct colorblindness.
Dishmon's reaction to seeing color for the first time: "Oh my God!"
Freese asked Dishmon "What do you see?"
His response was simple: "A different world."