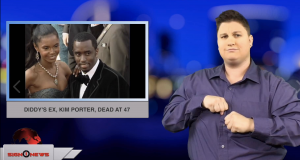 Sign1News delivers news for the deaf community powered by CNN in American Sign Language (ASL).
Transcript
Model and actress, Kim Porter has died.
Porter is a former longtime girlfriend of musician and entrepreneur, Sean "Ditty" Combs, and the mother of his three children.
A representative of Cohen said that she died Thursday, at her California home.
Her cause of death has not been released.
Top names from the entertainment industry paid their respects on social media, in response to the news.
Rapper, Missy Elliott, called the death heartbreaking and rapper, 50 Cent also sent his condolences.