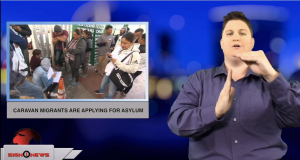 Sign1News delivers news for the deaf community powered by CNN in American Sign Language (ASL).
Transcript
Migrants, who are headed to the U.S. as a part of a large caravan, have arrived at the border of Mexico.
The first batch of people filled out paperwork for asylum, today.
Some are part of the LGBT community and say they face discrimination in their home countries.
Others say they are fleeing violence.
Pres. Trump has described caravan as an invasion, ordering thousands of troops to the border.
Hundreds of migrants have entered Tijuana, so far.
Experts say that number could reach 5,000.