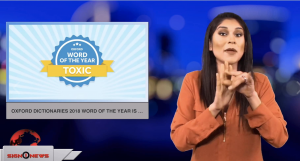 Sign1News delivers news for the deaf community powered by CNN in American Sign Language (ASL).
Transcript
According to Oxford dictionaries, the "word of the year" for 2018 is toxic.
That's the word the British publisher picks as the "word of the year."
Toxic is literally defined as poisonous.
But Oxford says this year the word has been used to describe numerous situations and concerns.
There have been articles about toxic workplaces, toxic relationships and toxic masculinity.
Toxic is a word that's been around for centuries.
In 2015, Oxford didn't choose a word at all.
Instead, they chose the "tears of joy" emoji as the word of the year.