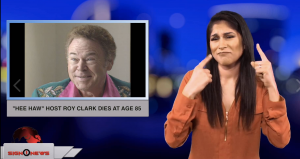 Sign1News delivers news for the deaf community powered by CNN in American Sign Language (ASL).
Transcript
Roy Clark, a country music star and former host of the long-running TV series "Hee Haw" died today, according to his publicist.
Clark died of complications from pneumonia at his home in Tulsa, Oklahoma.
He was 85.
Clark was a guitarist and banjo player who began his musical career as a teenager.
He made his first appearance at the Grand Ole Opry at age 17.
Clark was the host or co-host of "Hee Haw" from 1969 to 1982.