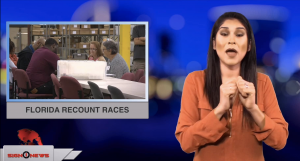 Sign1News delivers news for the deaf community powered by CNN in American Sign Language (ASL).
Transcript
It's day six of the Florida election recount.
Today, as the election recount continues, all 67 counties must meet a 3 PM deadline.
This is after old machines overheated, causing more than 170,00 votes to be recounted.
Now they're recounting more than 8.2 million votes.
Both the U.S. Senate race between Republican Gov. Rick Scott and Democratic incumbent Sen. Bill Nelson, and the state's contentious gubernatorial race were within a .5% margin
with Scott leading Nelson by roughly 12,000 votes.
Wednesday, many lawsuits were brought on by Democrats hoping to find more votes.
But Gov. Scott is claiming victory and moving ahead.
Yesterday, Scott appeared on Capitol Hill as Sen. elect alongside Senate Majority Leader Mitch McConnell.
If the counties don't meet a 3 PM deadline, the state will certify unofficial results.
As of 3 PM Eastern Palm Beach County failed to meet the deadline.