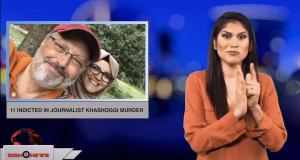 Sign1News delivers news for the deaf community powered by CNN in American Sign Language (ASL).
Transcript
Saudi prosecutor's office announced 11 people have been charged in connection with Khashoggi's death.
They say five people were directly involved in planning and executing the crime and they're facing capital punishment.
The prosecutor's office said a former Saudi deputy chief and formed a 15-person team to try to force Khashoggi's to go back to Saudi Arabia.
And a member of this team ordered Khashoggi's killing.
Now Saudi authorities say the journalist was killed by a sedative overdose after a fight at the Saudi Arabia in Embassy in Turkey last month.
The Saudis initially deny any knowledge of the journalist death before admitting a group of rogue operators were responsible for his death.