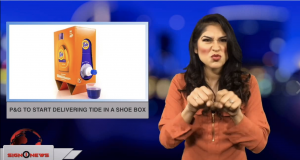 Sign1News delivers news for the deaf community powered by CNN in American Sign Language (ASL).
Transcript
You'll soon be able to get Tide laundry detergent shipped to you in a shoebox.
This is what the new Tide eco-box looks like.
Proctor & Gamble unveiled it Friday.
As you can see, it features a built-in twist off tab to pour the detergent, a pullout stand and a measuring cup.
Procter & Gamble says this version of Tide uses 60 percent less plastic than shipping a 150 ounce bottle of the detergent.
It's also lighter and takes up less space in a delivery truck.
Procter & Gamble says the eco-box is perfect for people buying Tide online.
The eco-box will debut on Amazon and other online retail sites in January.