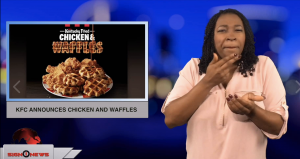 Sign1News delivers news for the deaf community powered by CNN in American Sign Language (ASL).
Transcript
Kentucky Fried Chicken is introducing its own version of chicken and waffles.
You may have tried the upscale brunch favorite chicken and waffles.
The popular salty-sweet mix of fried chicken paired with maple-syrup covered waffles is traditionally an upscale, pricey brunch favorite.
KFC says its price is one anyone can afford, starting at $5.99.
But it's only available for a limited time — from now until the end of the year.