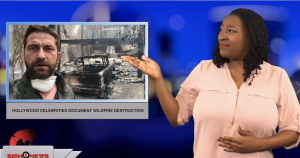 Sign1News delivers news for the deaf community powered by CNN in American Sign Language (ASL).
Transcript
Deadly California wildfires forced singer Lady Gaga to evacuate her Malibu home.
As she was leaving, she stopped to record the looming danger and send prayers for those affected by the fires.
She also send this tweet thanking firefighters, police and first responders who are fighting the flames.
Actor Gerard Butler says his house is half gone.
He shared this image of the garage and you can see one car is completely charred.
And the premiere for the movie "Instant Family" was canceled yesterday when fires erupted northwest of Los Angeles, filling the region's skies with smoke.
Paramount Studios announced the food ordered for the after-party went to the American Red Cross, which is aiding those affected by the fires.
So far the fires have claimed 31 lives, 228 people are still unaccounted for.
The Camp fire in Northern California is now the most destructive in state history.
A CNN crew was at a mobile home park in Paradise, California that was nearly leveled.
This gray cat was found next to one of the few homes that was still intact.