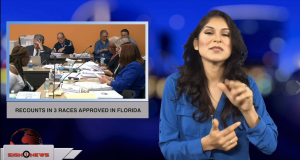 Sign1News delivers news for the deaf community powered by CNN in American Sign Language (ASL).
Transcript
Today, the Broward County election Board approved a motion to start recounts in three races.
Machine recounts will be conducted in the races for Governor, Senate and Agricultural Commissioner.
In the Senate race, Republican Gov. Rick Scottís lead over Democratic Sen. Bill Nelson has shrunk to about 12,000 votes or .15%.
In the governor's race the difference is about .4%.
Republican Don DeSantis leads Democratic mayor Andrew Gillam by 33,693 votes.