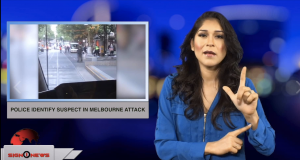 Sign1News delivers news for the deaf community powered by CNN in American Sign Language (ASL).
Transcript
Police in Australia identified the man who carried out yesterday's deadly stabbing attack in Melbourne as 30-year-old Hassan Khalid Shire Ali.
Intelligence agencies said ISIS had claim responsibility for the attack through its media outlet, AMAQ.
However, there is no evidence to support the claim.
In a press conference today, the Australian Federal police said Shire-Ali was already known to intelligence agencies.