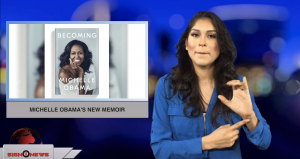 Sign1News delivers news for the deaf community powered by CNN in American Sign Language (ASL).
Transcript
Former First Lady, Michelle Obama's new memoir, titled, "Becoming," offers an inside look at the personal details of her life and time in the White House.
The Washington Post obtained an early copy of the book.
The book also says Mrs. Obama gets personal by discussing her struggles with infertility in the book.
She also she expresses her dislike for Pres. Trump.
She says she can never forgive him for the rumors he spread questioning the legitimacy of Pres. Obama's American birth certificate.
She said it threatened her family's safety.
The book will be released next Tuesday.