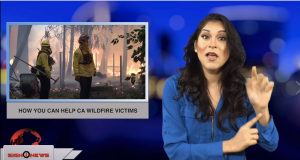 Sign1News delivers news for the deaf community powered by CNN in American Sign Language (ASL).
Transcript
Three massive wildfires are burning across the state of California.
More than 250,000 people have been evacuated and at least nine are dead.
Here are ways you can assist those affected or get help if you're in need.
Lyft is offering free rides to people in the areas. Dial 2114 for assistance.
You can let your family know your safe by using Facebook's safety check for both counties.
AT&T is allowing unlimited talk, text and data access to all customers in Southern California.
AirBnB host are providing free rooms in Ventura and Buttes County until November 29.
The city of Rolling Hills Estates is accepting horses affected by the Woosley fire.
Many organizations are out there with food, water and other relief supplies.
You can donate to the Red Cross, the California Fire Foundation and various other organizations.