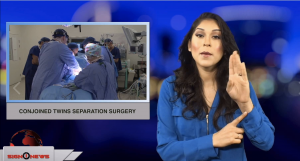 Sign1News delivers news for the deaf community powered by CNN in American Sign Language (ASL).
Transcript
Yesterday a hospital in Melbourne Australia successfully separated two conjoined twins from Bhutan.
Twin girls, Nima and Dawa, age 14 months, underwent operation at Melbourne's Royal Children's Hospital.
The two girls were joined at the stomach and have grown up facing each other, unable to move independently.
Here are some interesting facts about conjoined twins.
A conjoined birth happens one out of every 200,000 'live' births.
75% are female and 70% are joined at the chest and share organs with one another.