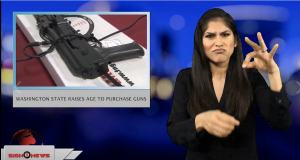 Sign1News delivers news for the deaf community powered by CNN in American Sign Language (ASL).
Transcript
Washington state has passed a new comprehensive gun safety law.
Residents voted Tuesday to raise the purchase age from 18 to 21.
Safety training will also be required for firearm purchases under the new law,
along with an enhanced background check system.
Washington's Secretary of State's office said the changes were approved by 60% of the voters.
The new law will go into effect in 2019.