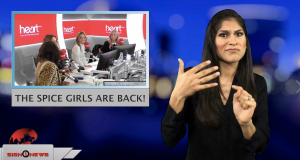 Sign1News delivers news for the deaf community powered by CNN in American Sign Language (ASL).
Transcript
After 10 years out of the public eye, the Spice Girls are reuniting for a tour next year
but without Posh Spice, Victoria Beckham.
Beckham announced by Instagram that she won't be there for the reunion which she says will be amazing and fantastic.
The surprise announcement was released through social media that the most successful all-girl pop band ever will perform on six dates in June, in the UK.
Each performer will earn millions of dollars for the tour which could increase if the tour is extended for more dates, in other countries.