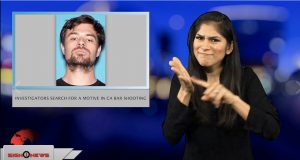 Sign1News delivers news for the deaf community powered by CNN in American Sign Language (ASL).
Transcript
Police are searching for a motive for the former Marine, Ian Long, who shot and killed 12 people in a California bar before killing himself.
In a post on Facebook, Long said he hopes people call him insane and the only thing that happens after shootings is hopes and prayers, yet people keep wondering why these shootings keep happening.
He posted on Facebook just around the time he opened fire at the Borderline Bar and Grill.
The mystery puzzling investigators is why did he do it.
Right now, FBI are going through his home, car and his belongings in search of clues.
Officials say Long had previous encounters with the police
as recently as April which lead to Long meeting with the mental health specialist.