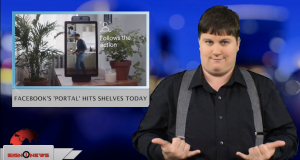 Sign1News delivers news for the deaf community powered by CNN in American Sign Language (ASL).
Transcript
Facebook wants to give Amazon's Echo and Google's Home Smart speaker some competition.
Facebook's new talking speaker called "Portal" hit shelves today.
It has a 10-inch video screen and retails for $199.
There is also a larger version, the Portal Plus, which has a 15-inch screen and sells for $349.
The company says Portal is mainly intended for making video calls.
It has a built-in camera that is able to follow a person around the room.
There's been some controversy since Facebook admits that it will keep track of the frequency and length of calls.
It says some information gathered may be used for advertising purposes.
However the social media company insists that Portal is not a snooping device.