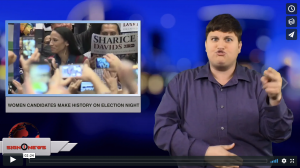 Sign1News delivers news for the deaf community powered by CNN in American Sign Language (ASL).
Transcript
The US midterm elections are over and Tuesday brought celebrations for the record-breaking number of women across the country who made history with their victories.
They ran and won in unprecedented numbers, adding over 25 seats to the House.
Many are Democrats inspired to run in response to President Trump.
Former Navy commander Elaine Luria turned Virginia's second Congressional district blue.
Like many of the women elected, she's a first-time candidate.
29-year-old New York Democrat and self-described socialist Alexandria Ocasio-Cortez will be the youngest woman ever elected to Congress.
And diversity extended beyond gender.
2018 also saw the first Muslim women elected to serve in the house: Democrat Rashida Tlaib of Michigan and Ilhan Omar of Minnesota.
Democrats Sharice Davids from Kansas and Deb Haaland of New Mexico earned their place in history by becoming the first Native American women in Congress.
Republican women made their mark Tuesday night too.
Republican Congresswoman Marsha Blackburn will become the first female Senator from Tennessee.
Republican Congresswoman Kristi Noem is the first female governor for South Dakota.