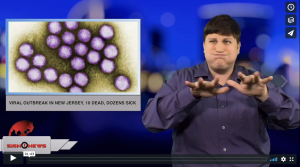 Sign1News delivers news for the deaf community powered by CNN in American Sign Language (ASL).
Transcript
Health officials are trying to get to the bottom of a fatal virus outbreak.
The adenovirus has affected dozens of people in the Wanaque Center for nursing and rehabilitation in New Jersey.
30 cases have been confirmed, 10 people have died and 20 others have gotten sick.
The Centers for Disease Control and Prevention says adenoviruses are usually spread by personal contact or touching a surface that has the virus.
Symptoms include a fever, sore throat and bronchitis.
The virus doesn't often cause major problems for relatively healthy people but it can be dangerous for those with weak immune systems.
Meanwhile a separate strain of the adenovirus was discovered in another pediatric facility in New Jersey where at least five children have contracted the virus.
The New Jersey health department says a team of infection experts and epidemiologists will investigate a number of facilities over the next few weeks.