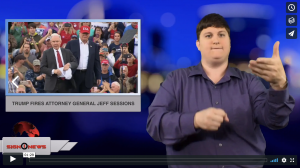 Sign1News delivers news for the deaf community powered by CNN in American Sign Language (ASL).
Transcript
The tumultuous relationship between President Trump and Attorney General Jeff Sessions finally came to an end.
Trump fired Sessions today.
The relationship between Trump and Sessions has been strained for months ever since Sessions recused himself from the ongoing Russia investigation.
Trump publicly mocked and belittled Sessions on several occasions.
Trump appointed Sessions' Chief of Staff Matthew Whitaker as the acting Attorney General until a permanent replacement can be found.
However Whitaker has been openly critical of special counsel Robert Mueller's Russia investigation.
Democrats immediately called on Whitaker to recuse himself just as Sessions did.