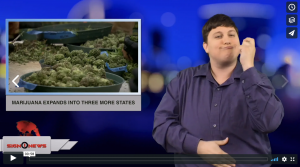 Sign1News delivers news for the deaf community powered by CNN in American Sign Language (ASL).
Transcript
Several states were added to the growing list of legal places to smoke marijuana.
Michigan voters approved a measure permitting people over 21 years old to smoke pot.
It also changes current related violations from crimes to civil infractions.
Missouri had three marijuana measures on the ballot.
Amendment 2 passed, which allows doctors to prescribe medical cannabis to patients.
Utah voters also gave the nod to medical marijuana.