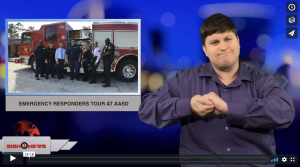 Sign1News delivers news for the deaf community powered by CNN in American Sign Language (ASL).
Transcript
If there were an emergency at a public school — fire, active shooter, weather disaster — first responders immediately know what to do.
They've been trained to prepare for such things.
But what if that emergency takes place at a Deaf school?
Would first responders know what to do and where to go?
The staff at Atlanta Area School for the Deaf decided to take proactive measures to bring in first responders to build a partnership.
I had a chance to visit the school today to see how AASD is helping first responders get familiar with the layout of the school in the event of an emergency.
Good morning. Why is this first responder tour so important?
It's important because, first, they need to know what AASD has, know our Deaf and hard of hearing students if an emergency happens. They need to know the school's unique layout, which is like a maze, so if an emergency happens they know where to go and to familiarize themselves with the school.
It's an opportunity for students to see a variety of first responders, not just police, but also firefighters, medics and other police officials. That will help break down communication barriers.
By touring the school first responders get to visualize what would be required to get into the school in case of an emergency and the best way to evacuate students and staff from the school if necessary.
In addition the staff at AASD wants first responders to get to know them so that should an emergency arise, they know the staff and students by name and a trusting relationship is formed between the students and the men and women who are trained to serve and protect them.
Before and after this tour, what would the partnership be like between AASD and first responders?
In recent years we've established a beautiful relationship with the Clarkston Police Department. For the past several years we've developed a partnership with officers who come to meet the kids, fist bump, say 'hello,' 'what's up?' and sit down and eat lunch or breakfast. They know the kids and the staff here. It's really nice.
Now the school wants to expand its reach to connect with other law enforcement agencies so they too will understand the unique challenges of working with a Deaf school during an emergency, but also experience the rewards.
Why are some of you wearing black and others white?
It depends on the rank. She's the chief. The head boss.
I need to practice my sign language and be able to communicate better with everyone and also be able to pass it along to my faculty and staff as well. In case something happens, we may have to call someone else in from my campus to come in to assist us and we want to make sure we're on the same level of communication and understanding.
This is a wonderful facility to be honest with you. You guys are getting young people ready for the world. It's a difficult world we live in and I think they will be very prepared when they leave.
No school ever wants to experience a disaster.
But when these first responders arrived they will know exactly what to do.
Sign1News. Your life. Your language.