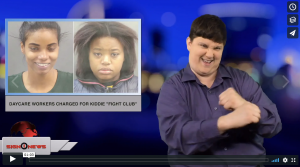 Sign1News delivers news for the deaf community powered by CNN in American Sign Language (ASL).
Transcript
Two Missouri daycare workers, 22-year-old Tena Dailey and 28-year-old Mickala Guliford, have been charged with endangering the welfare of a child.
They are accused of directing and encouraging children ages 3 to 4 years old to engage in fights over a 35 minute period.
The fights were captured on surveillance cameras.
Court documents say the video showed Guliford jumping up in excitement while watching the fights.
The fights happened two years ago but once the video surfaced, the women were fired immediately and the prosecutor's office has launched a full investigation.