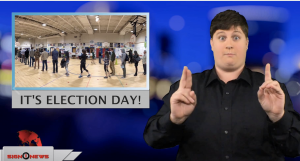 Sign1News delivers news for the deaf community powered by CNN in American Sign Language (ASL).
Transcript
Today is election day and we hope you made it to the polls to exercise your right to vote.
As of Monday morning, at least 31 million people had voted early, blowing early voting numbers from the last midterms out of the water.
Both Democrats and Republicans hope that means good news for their respective parties.
This election day there are 435 House races, 35 Senate races and 36 governor's races.
And no matter the outcome of any of those contests, this midterm campaign is already headed for the record books.
With more than $5 billion spent, that means it is the most expensive midterm election in campaign history.
Be sure to watch our website, Facebook, Twitter and Instagram pages all night to see election results coming in.