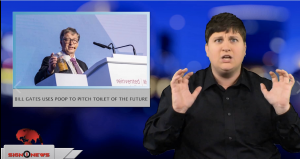 Sign1News delivers news for the deaf community powered by CNN in American Sign Language (ASL).
Transcript
Microsoft's founder Bill Gates stunned the crowd in Beijing today by holding up a jar with human feces inside.
He was hosting the "Reinvented Toilet Expo" and he was pitching a futuristic toilet that doesn't need water or sewers.
According to the World Health Organization, 2.3 billion people still don't have basic sanitation facilities such as toilets, which results in the spread of diseases like cholera, typhoid and infectious diseases like hepatitis and polio.
Gates used the jar to point out it could contain as many as 200 trillion rotavirus, 20 billion Shigella bacteria and 100,000 parasitic worm eggs.
The Gates Foundation's Reinvented Toilet Challenge has given $200 million to teams seeking to develop waterless toilets.
Gates said the production of these toilets are in its initial phase and that it will be at least a decade before reinvented toilets reach the masses in the poorest countries.