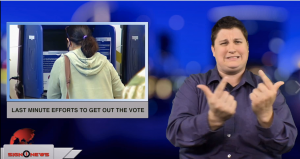 Sign1News delivers news for the deaf community powered by CNN in American Sign Language (ASL).
Transcript
Today is the last day for that final push for voters before election day tomorrow.
Many politicians, celebrities and even the president himself are campaigning hard across the country in an election some call the most important of our time.
Midterm elections don't usually capture voters' attention the way a presidential election does.
But many voters say this one feels different because certain issues like immigration, healthcare and, of course, Donald Trump's presidency, are at a tipping point.
By Halloween the number of early and absentee votes had already surpassed the number of total early and absentees in any previous midterm election.
Political analysts also say election day could produce a record number of women, African-Americans, Latinos, LGBTQ and veteran elected officials in 2019.
Once the polls close, Sign1News will be bringing you up-to-the-minute results from several key races.
One of them is right here in our own backyard.