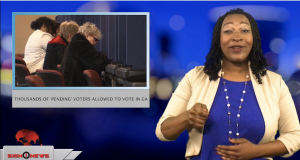 Sign1News delivers news for the deaf community powered by CNN in American Sign Language (ASL).
Transcript
Yesterday, a judge ruled that more than 3,100 voters must be allowed to vote on Tuesday.
The voters are newly naturalized U.S. citizens.
Kemp's office held up the registrations quoting Georgia's "exact match" law.
Which means their citizenship status must be updated on their driver's license.
But, for new citizens their citizenship status had not been updated in the state's driver database, causing a mismatch.
This is the second legal defeat for Kemp's office after accusations of voter suppression.
Last month another federal judge ordered state elections officials to stop tossing out absentee ballots with flagged signatures.
Instead, ballots should have been marked as provisional.