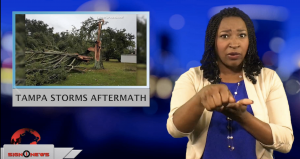 Sign1News delivers news for the deaf community powered by CNN in American Sign Language (ASL).
Transcript
A powerful storm and a tornado moved through the Tampa area.
The storms ripped up trees, tore rooftops off buildings and scattered debris.
Winds were up to 66 miles an hour and knocked out power to at least 50,000 homes and businesses.
The National Weather Service reported a tornado touched down in nearby areas and confirms several homes were damaged.