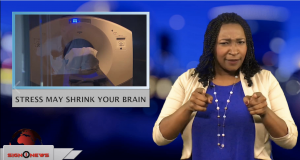 Transcript
Stress can strain your body.
According to the journal "Neurology," it may also shrink your brain.
Researchers found a link between high levels of the stress hormone cortisol and brain size and function.
Cortisol is a hormone released but we are stressed and on high alert.
Researchers say that if you're constantly stressed your body may malfunction.
This leads to heart disease, headaches, weight gain and trouble sleeping.
Researchers say stress can also lead to memory loss and concentration issues.
They also found people with the highest levels of cortisol had the most memory loss.
The study also suggests people with higher cortisol levels had smaller brains.