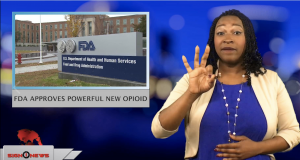 Transcript
Yesterday, the Food and Drug Administration (FDA) approved a new drug call DSUVIA.
It is 1000 times more powerful than morphine.
DSUVIA comes as a tablet in an applicator administered under the tongue.
The FDA has been criticized for bringing a new opioid to market, while the nation faces increasing opioid overdose deaths.
The FDA says it is managing the opioid crisis and the new drug is necessary for patients to manage pain.