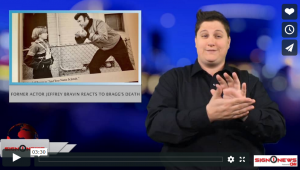 Sign1News delivers news for the deaf community powered by CNN in American Sign Language (ASL)
Transcript
Bragg's costar in his famous movie "And Your Name Is Jonah" was a young boy named Jeffrey Bravin.
Bravin played the role of Jonah.
Bragg was also Bravin's acting coach.
We caught up with Bravin today at the Atlanta Area School for the Deaf.
He was in town to meet with other educators to collaborate and discuss ways to improve language skills for Deaf children.
We want to thank Jeffrey and his mom for providing these incredible pictures of himself as a child actor working with Bragg.
We asked him how he felt when he heard Bragg had died, how his death would impact the Deaf community and whose next to take over where Bragg left off.
Wow yesterday I got a call from a good friend of mine, who is also friends with Bragg. This person doesn't call me often so I knew something was up.
I was in a meeting at the time but I called back and confirmed it was Bernard that had died.
He was someone who always traveled the world telling stories.
He would always tell the story about in 1977 when I met Bernard after a graduation speech at Fanwood School for the Deaf.
It was a wonderful speech.
He told me his parents were Deaf and so forth.
Then two years later, the movie "And Your Name Is Jonah" came about and Bernard remembered me and that's the story Bernard told everyone.
Our relationship grew after that.
He became my coach and teacher.
So everytime I travel and meet people, I always have that memory of him. It's a wonderful memory.
His death really touched me but not just me. I know he made a huge impact in the Deaf community in America and all over the world.
Bernard is the Father of Deaf Theater.
He co-founded NTD and he's still iconic today.
Even when he moved out west he continued to be involved with young children.
Two years ago he met with some people at a party and somehow they collaborated and developed a script.
He impacted so many in so many different ways.
He helped Marlee Matlin and Tony Natale and they both became so successful.
People don't realize that Bernard impacted them all and when you think about it, that's what makes heroes.
I wonder who will take Bernard's place. I wonder how many people will do it ?
If one person doesn't it, that doesn't make a legecy.
But if many people take over, that will be a legacy. I feel that will happen.
Bernard has already made a huge impact and now that he's gone, I feel it will be an even bigger impact.
Sign1News. Your Life. Your language.