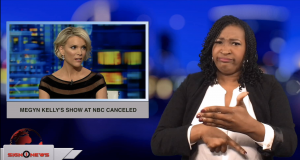 Transcript
NBC has canceled Megan Kelly's morning show.
The cancellation is after Kelly may offensive comments this week about blackface Halloween costumes.
The next day she apologized on her show for those comments.
In a statement, the network said 'Megyn Kelly Today' is not returning.
Instead, other co-anchors of ëTodayí will host the program.
The program has ended but Kelly's exit from NBC news is not official yet.
Kelly's attorney said Megyn remains an employee of NBC news and discussions about the next steps are continuing.