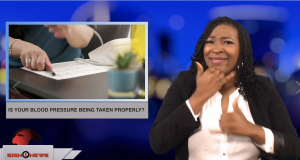 According to the American Heart Association, it is easy to make mistakes when checking blood
pressure whether you are you are doing it yourself or at a doctorís office.
These errors can lead to a higher reading which in turn leads to a misdiagnosis.
The American Heart Association has a few simple things you can do to get an accurate measurement.
First, empty your bladder ahead of the reading.
Second, sit with your back supported, feet flat on the ground and keep your legs uncrossed.
Make sure your arm is the heart level and supported.
Next, make sure the cuff is over a bare arm and fits you properly.
Finally, sit still and do not speak during the reading.