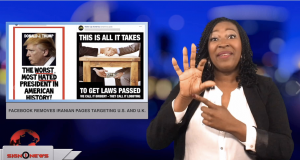 Transcript
Facebook has removed more Iranian pages targeting people in the US and the UK.
Friday, Facebook took down 82 pages, groups and accounts run from Iran.
The owners made inflammatory postings on politically charged topics.
Facebook found the pages a week ago and made its findings public due to the upcoming midterm elections.
Facebook doesn't know if the operation was linked to Iran's government.
This is the second time in recent months that Facebook has removed Iranian content targeting Americans.