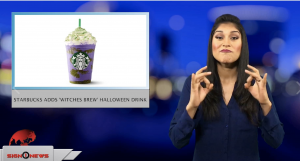 Transcript
Seasonal specialty drinks at Starbucks have become fan favorites.
With Halloween right around the corner, the coffee giant has created the witches brew frappuccino.
It has a base of what Starbucks calls "toad's breath," a purple creme frappuccino.
Then there is a swirl of so-called green "bat warts," which are actually made with chia seeds.
They top it all off with a "swamp fog" of vanilla whipped cream and a dusting of green powdered "lizard scales."
The creepy coffee concoction is available at participating stores starting today and lasting as long as supplies do.
Starbucks is also putting out a holiday playlist and a collection of spooky snacks like the "mummy cake pop."