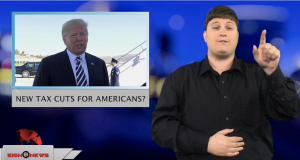 Sign1News delivers news for the deaf community powered by CNN in American Sign Language (ASL).
Transcript
Yesterday in Nevada Trump said the Republicans want to implement a major tax cut next month ahead of the midterm elections.
But Congress is currently out of session and won't be back for next month's midterm election, making it impossible to pass any new legislation.
Trump also said the cuts would be for middle income people not businesses.
Last year Republicans passed a major tax overhaul.
Critics complained it prioritized businesses over lower and middle income Americans.