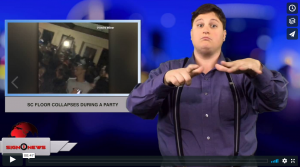 Sign1News delivers news for the deaf community powered by CNN in American Sign Language (ASL).
Transcript
A large section of an apartment's clubhouse floor collapsed sending people crashing to the basement below.
30 people were injured and taken to local hospitals.
It's unclear if any of the injuries were life-threatening.
It happened at an apartment complex near Clemson University in South Carolina.
Police said a private party was being held in the facility when the floor collapsed.