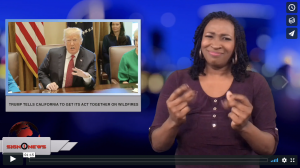 Sign1News delivers news for the deaf community powered by CNN in American Sign Language (ASL).
Transcript
During the Cabinet meeting today, President Trump told officials in California to get their act together when it comes to wildfires.
He says the administration is not going to continue to shell out hundreds of billions of dollars every year because of their incompetence.
Trump says he's spoken to governors all over the country who say they are able to control and squash fires in a matter of minutes and lose only a couple of acres.
According to Fortune, the California wildfires in 2017 resulted in $2.5 billion in claims and scorched thousands of acres.
This year's Carr fire, the most destructive in state history, cost $25 million to suppress and $253 million in property damage.