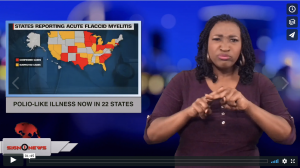 Sign1News delivers news for the deaf community powered by CNN in American Sign Language (ASL).
Transcript
Parents, listen up!
A polio-like illness is impacting children across the country and doctors are baffled as to how it's spread.
It's called acute flaccid myelitis (AFM).
When we reported on the story last week, the CDC says there were 38 cases reported in 16 states.
As of today, that number has jumped to 62 cases in 22 states.
The average age of patients is four years old.
Early symptoms mirror those of a common cold: cough, congestion and fever.
But then all of a sudden, it changes and the child's arms and legs become weak.
For some children, that weakness can turn into paralysis.
There is no treatment for AFM but in some cases the paralysis or weakness can be reversed over time through physical rehab.
Doctors still aren't certain if AFM is contagious so they are urging parents to make sure kids are washing their hands and keeping up with vaccinations as flu season begins.