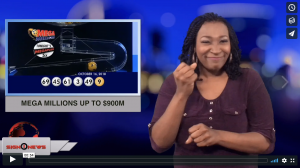 Sign1News delivers news for the deaf community powered by CNN in American Sign Language (ASL).
Transcript
If you've never played the lottery, you may want to think about buying at least one Mega Millions lottery ticket this week.
There was no winner in Tuesday night $667 million drawing so now the jackpot is $900 million!
It's the largest jackpot in the game's history.
But just in case you matched some of the numbers from Tuesday night's drawing, they were 3, 45, 49, 61, 69 and the Mega Millions ball 9.
The drawing for the $900 million jackpot is this Friday.
Good luck!