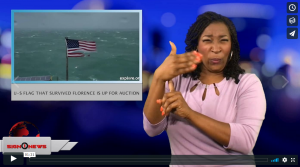 Sign1News delivers news for the deaf community powered by CNN in American Sign Language (ASL).
Do you remember this flag?
It's the flag that was flying at an old Coast Guard lighthouse off the coast of North Carolina as Florence roared ashore.
Video of the flag was live streamed and people all over the world could see the winds from Florence ripping the flag to shreds with each passing hour.
Now that flag is being auctioned for charity.
The owner of the lighthouse says he decided to auction the torn flag after he saw how much attention it received online.
The auction started Thursday and is scheduled to end tonight.
All the money raised will go to the American Red Cross, earmarked for hurricane Florence relief efforts.