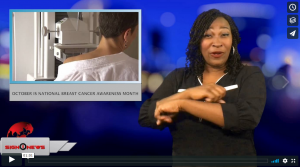 Sign1News delivers news for the deaf community powered by CNN in American Sign Language (ASL).
Transcript
October is National Breast Cancer Awareness month.
This is an annual health campaign to increase awareness about the disease, to encourage monthly breast exams and to raise funds for breast cancer research.
According to the National Breast Cancer foundation, one in eight women will be diagnosed with breast cancer in her lifetime.
By the way, men get diagnosed with breast cancer too.
It's rare but it does happen.
Several men's groups have joined together to establish the third week of October as Male Breast Cancer Awareness week.